Speech Therapy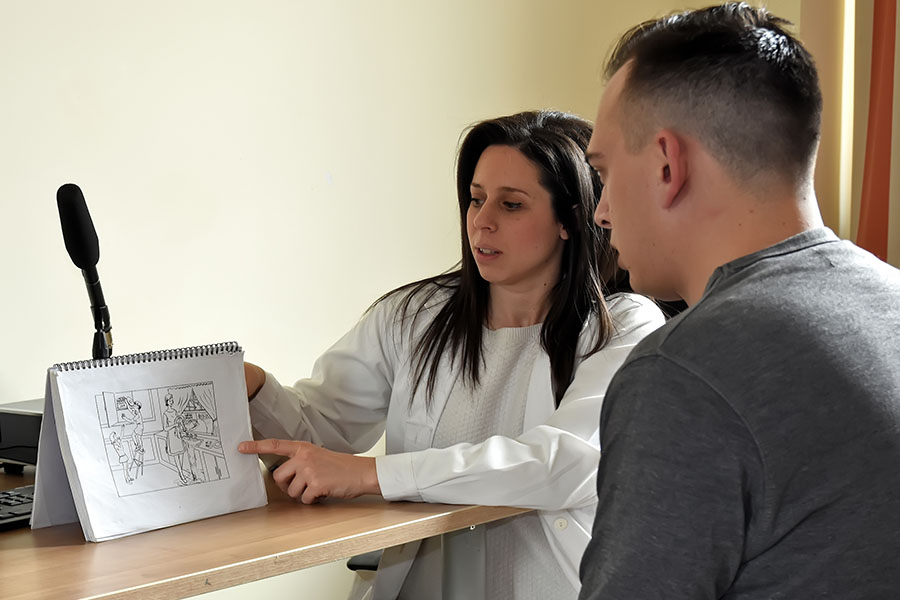 The Speech Therapy Department performs evaluation and intervention in neurological, neurodegenerative, phonetic – articulate, pervasive developmental disorders and learning difficulties for children and adults.
Materials – Personalized means of intervention and evaluation according to each patient's needs.
Stroboscope
Electroglottograph system, phonogram, vocal assessment – analysis, speech therapy – speech training, pitch Master
Training system and disarticulation evaluation
Evaluation and intervention in speech and language dyspraxia
Neuromuscular electric Stimulation (NMES) of swallowing difficulties and neurogenic disorders, by certified educators.
Electromyogram (EMG)
Cognitive functions evaluation, neurological and neurodegenerative disorders, with use of computation in neuropsychological testings.
Cognitive exercise in neurological and neurodegenerative disorders with the use of structured programs and software
Aphasia evaluation diagnostic exercise by certified educators
Diagnosis of learning difficulties with the use of computation tests by certified educators.
Alternative therapy programs of pervasive developmental disorders (Pecs, Teach)
Use of P/C