Hospitalization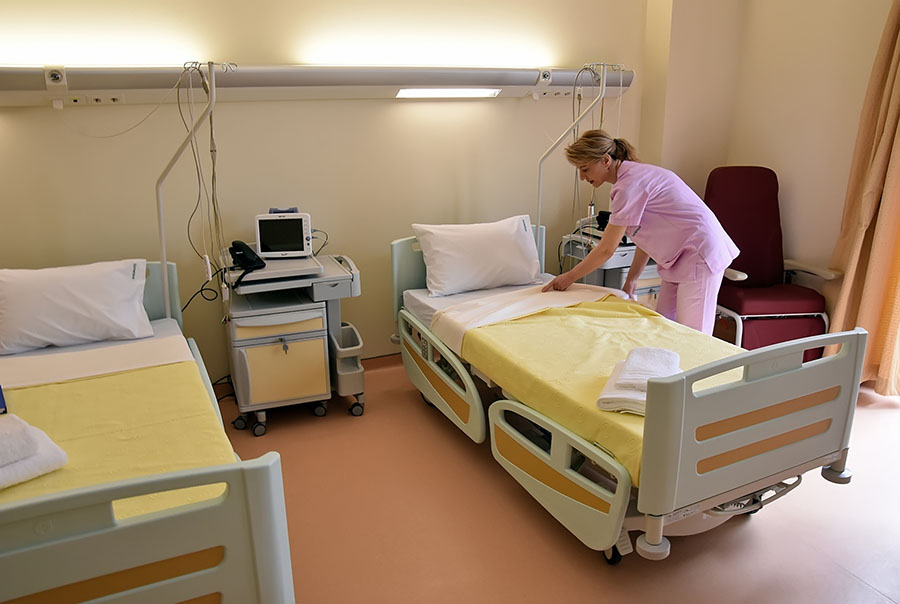 The Rehabilitation and Recovery Center of Patra offers 40 rooms with 99 beds for In-patients.
All the rooms are spacious and luxurious, close to the country side, with electric remotely controlled beds of personal autonomy, personal phone, TV set, access to P/C and internet as well as ultra modern nurses calling system.
At the Rehabilitation and Recovery Center, conditions of the extrapyramidal system, muscular conditions, conditions of the peripheral nervous system, multiple sclerosis, vascular strokes, brain paralysis (children and adults), spinal cord injuries (paraplegia – quadriplegia), cranial-brain injuries, multiradiculitis (Guillain Barre syndrome etc.), degenerative conditions of the Central Nervous System (fibular muscular atrophy etc), postoperative orthopedic conditions, rheumatoid arthritis in the phase of functional discount, non specific rheumatoid conditions (Reiter syndrome, ankylosing spondylitis, psoriatic arthritis etc.) algoneurodystrophies (RSD, reflex sympatehtic dystrophy etc.) and also other post cardiac surgery and multiorgan failure conditions, are treated under the care of the highly qualified medical and nursing personnel.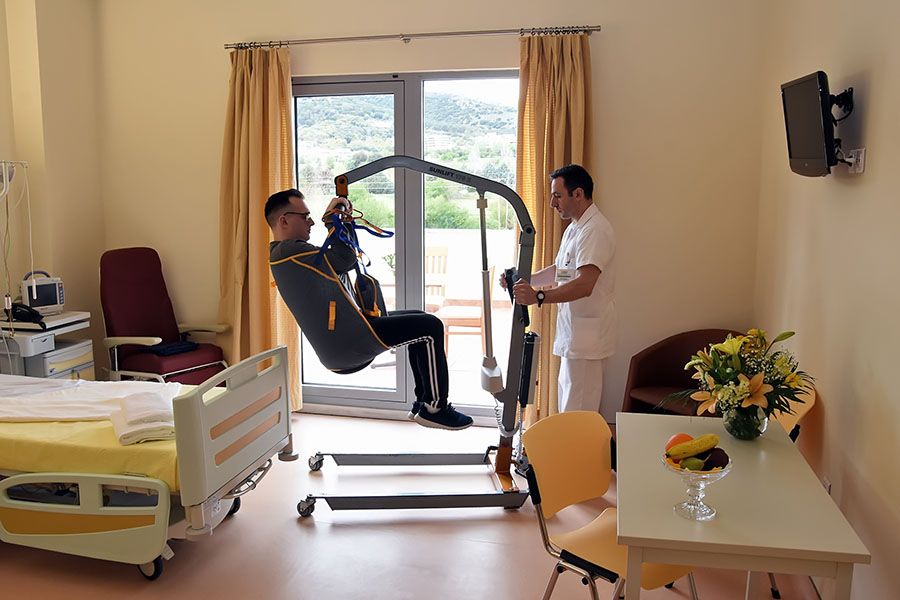 Apart from the In-patients, the Rehabilitation and Recovery Center also provides services for Out-patients, at the Physiotherapy, Ergotherapy, Hydrotherapy Department (swimming pool), Speech therapy and Therapeutic gym, with complete medical surveillance and support in all the Center's structures.
Electromyography ans electroneurography exams for brachial plexus injuries, peripheral neuropathies and also radiculitis syndromes of the cervical and lumbar spine, are also carried out at the Center.
Patients after orthopedic and cardiac surgeries and also with conditions of the respiratory, skeletal, circulatory system and with mental delay are also hospitalized at the Center. All the bathrooms are especially equipped for people with mobility limitations.