Rehabilitation Center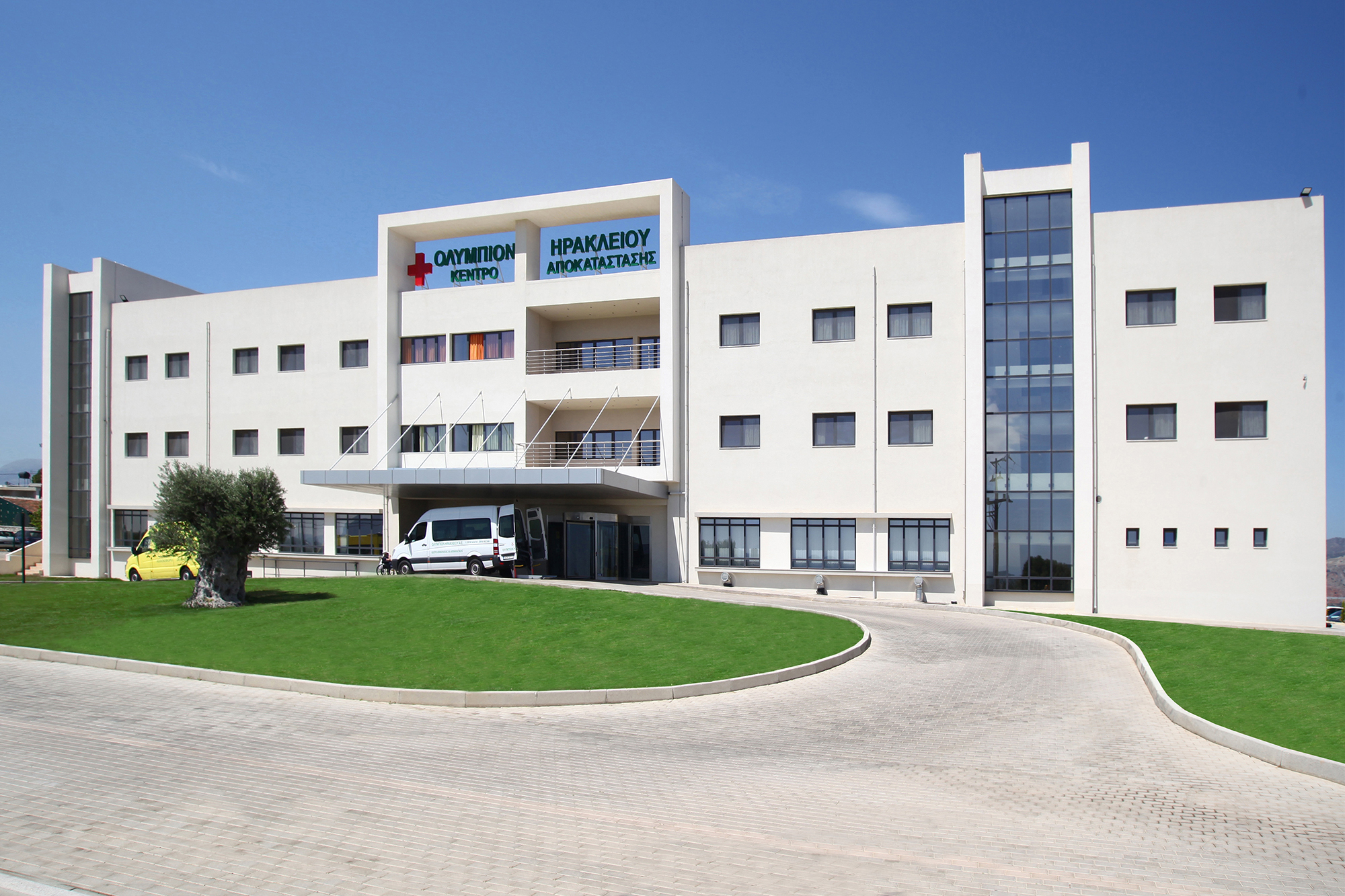 At the beginning of 2021, the state-of-the-art Recovery and Rehabilitation Center of "OLYMPION HERAKLION SA" started operating, in an ideal location, in the area of Giofyrakia (junction of PAGNI to Stavrakia), with panoramic views and very close to the city center of Heraklion, located on the north shore of the island of Crete.
On a private property of 10,000 sq.m. the second Olympion Recovery and Rehabilitation Center was built in Crete with dynamics and possibilities to serve the needs of the whole Island. The IN-patient Rehabilitation and Recovery Center offers 79 beds.
The purpose of the center is to offer specialized recovery and rehabilitation services to people with mobility and cognitive deficits (hemiplegia, severe hemiparesis, paraplegia, quadriplegia, severe quadriplegia and severe paralysis) that make it impossible for them to stand and walk or also cause problems in speech, communication, respiratory function, sphincter function, etc. and result in self-care difficulty. These deficits can be the result of various neurological conditions (Stroke, Cranial trauma, Multiple Sclerosis, Guillain Barre, myopathies, motor neurone disease, encephalitis, CNS tumors, spinal cord injuries with or without surgical treatment and neurological deficit, etc.) , orthopedic surgeries (hip fracture, total arthroplasty, spinal fusion), multiple injuries, neurosurgery, cardiac surgery and other surgical procedures, but also from conditions of the respiratory tract, excitatory system and with mental retardation.
The goal of the "OLYMPION HERAKLION RECOVERY & REHABILITATION CENTER SA" is the comprehensive treatment of the health of every Greek and European citizen by experienced medical and scientific staff.
The Company's Management has installed and implements a Quality Management System according to the International Standard EN ISO 9001:2015, which is implemented and maintained at all levels of the organization and is reviewed for the continuous improvement of its effectiveness.
The declared Quality Policy is in line with the Company's objectives, legal and regulatory requirements and with the mutually agreed upon requirements of the customers. It is communicated, understood, implemented and adhered to at all levels of the organization, reviewed for continued appropriateness, addresses communication issues properly and is supported by measurable objectives.
A basic condition for the achievement of the Company's goals is the understanding of their importance by all employees. Consequently, every employee participates in the achievement of these goals by contributing to the proper observance of the Quality Management System, in accordance with the International Standard EN ISO 9001:2015.
The Company's Management is committed to supporting the Quality Policy.
Learn more information about the
Rehabilitation and Recovery Center of Heraklion