Hospitalization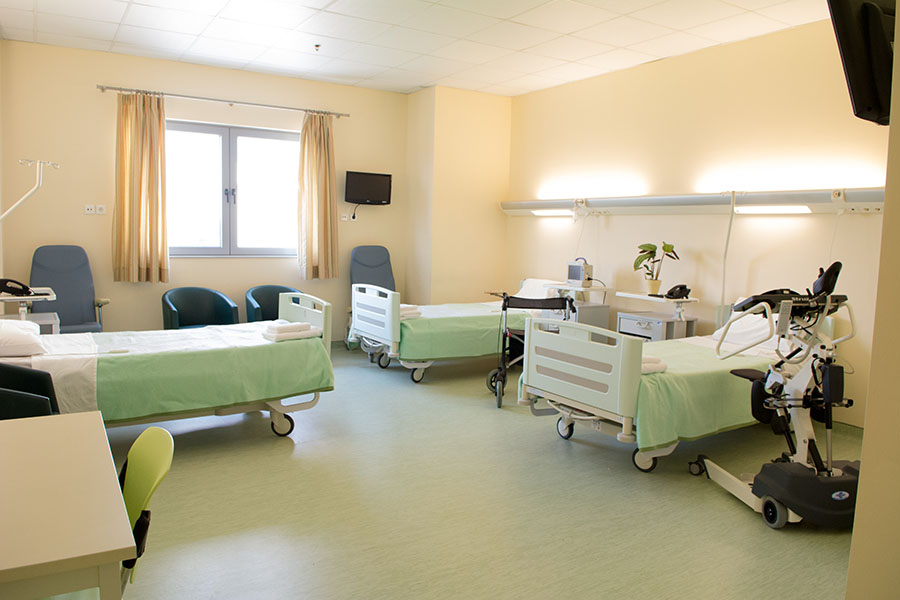 The Rehabilitation and Recovery Center of Thessalia offers 36 spacious and luxurious rooms, close to the country side, with 80 electric remotely controlled beds of personal autonomy, ultra modern nurses calling system, personal phone, TV set, access to P/C and internet (Wi-Fi) and independent air-conditioning. All the bathrooms in the rooms are especially equipped for people with mobility limitations.
The Center consists of experienced medical and nursing personnel adequately trained in order to respond 24/7, to the in-patients needs, of any condition, providing individualized services according to each patient's personality and co-evaluating the patient's psychological, social and cultural characters.
The Center's medical scientific team, is in charge of the entire surveillance of the in-patient's health condition, with the adequate pharmaceutical and therapeutic treatment. The doctors are in the facility 24/7.
The Hospitalization Department cares for the coverage of the physical and emotional needs of the in-patients, by providing individualized care, following the pharmaceutical treatment, the daily personal hygiene, the assistance in feeding and dressing and also the psychological boosting. The goal for every hospitalized patient is the encouragement, the re-education and the retrieval and retention of the maximum possible functionality, within an adequate therapeutic environment, which will result to the improvement of the patient's self-service in his daily life.