Special Therapies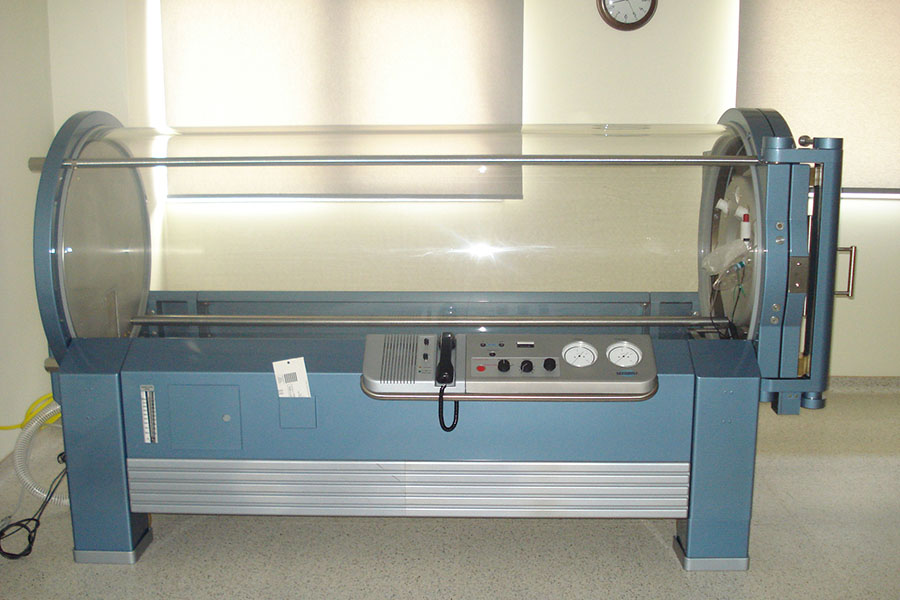 Hyperbaric oxygen therapy
The OLYMPION Center in Chania offers Hyperbaric chamber for oxygen therapy. With the hyperbaric oxygen therapy, the oxygen dissolved in the blood increases up to 20 times, which results to the improvement of the tissues oxygenation, increase of vascularization, limitation of edemas, as well as improvement of the leukocytes function.
It is indicated for the following conditions:
Divers disease
Embolism by air
Monoxide poisoning
Burns
Pres syndrome
Chronic osteomyelitis
Skin grafts and flaps
Lesions post radiation therapy
Selected trauma healing – compartment syndrome and traumatic ischemic conditions
Intracranial abscesses
Gas gangrene
Mesotherapy Department
Mesotherapy for the treatment of chronic pain, as well as musculoskeletal pains (lumbodynia, cervical pain, epicondylitis, carpal tunnel syndrome, tendonitis etc.)
Acute and chronic pain management Department by Physiatrist (with C-Arm)
Pain is an extremely complex and poorly understood medical problem that can have profound effects on one's physical and mental well-being. Uncontrolled pain impacts on all aspects of daily activity. Our providers offer the most advanced, evidence-based and effective non-surgical treatment options available to ease or resolve an individual's pain. With the expertise of Dr. Zavras and his interdisciplinary team of specialists and on-site resources the Olympion Rehabilitation Center in Chania provides patients' access to a variety of treatments for pain management in the treatment of acute and chronic pain. Our Center treats a wide range of conditions relating to chronic pain.
Dr. Spyridon Zavras is a Doctor of Physical and Medical Rehabilitation, specialized in Munich, Germany. He has long term clinical experience in Orthopedic, Neurologic, Cardiologic and Geriatric rehabilitation as well as in the treatment of chronic musculoskeletal pain and the conditions of the spine with surgical techniques (with the assistance of radiology equipment of C-Arm type, for infusions "facet joint injection", for infusions at the epidural area of the spine and for neurolysis "medial branch" of the zygoapophyseal joints).