Hydrotherapy & Swimming pool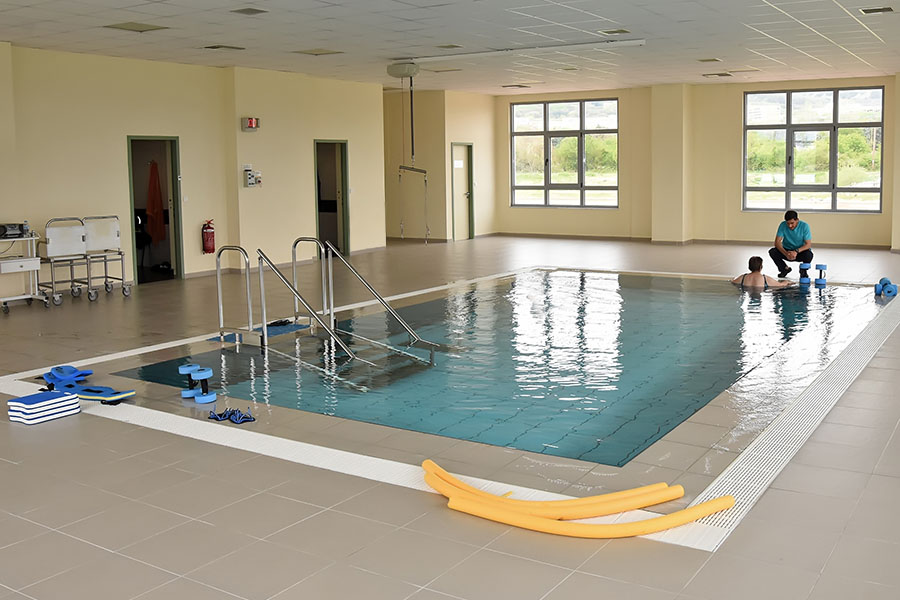 In Hydrotherapy, the water is used as a therapeutic mean, which is based in its therapeutic qualities: buoyancy, hydrostatic pressure, fluid resistance and temperature (310C – 340C). The liquid element as a rehabilitation mean, enables the patient to perform movements that would be very difficult or even impossible to perform outside of the water.The benefits of of exercising in the water are the following:
Decrease of muscular spasm, which results to muscular relaxation
Decrease of pain sensitivity
Increase of the articulation joints motion range
Improvement of muscular strength and endurance
Improvement of peripheral and lymphatic circulation
Increase of the patient's self-esteem
In an especially designed area of 400 square meters, the swimming pool with emerging bottom, temperature control according to the patients condition and automatic cleaning system, stands out.
The Hydrotherapy Department also includes:
Parallel walking bars
Special cranes with stretcher and stainless wheel-chair
Quadrupole whirlpool bath
Personal hydro-massage tubs
Exercise programs are carried out at the pool, for people with chronic conditions (i.e. musculoskeletal conditions, neurological conditions, rheumatic conditions), for people in postoperative phase, for athletes after injuries as well as for children with disabilities. The above mentioned programs are carried out as part of Special Gym Class - Therapeutic Gym, using acknowledged techniques by certified personnel.